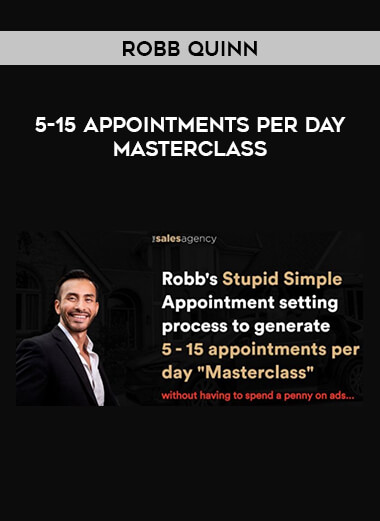 5-15 Appointments Per Day Masterclass By Robb Quinn
Salepage : Robb Quinn – 5-15 Appointments Per Day Masterclass

Here's What You Will Learn
Contents
FROM SETTING UP YOUR BRAND TO ATTRACT YOUR MONEY SPENDING CLIENTS TO BULLET PROOF MESSAGING TO FILL UP YOUR CALENDAR EVERY DAY OF THE WEEK
1) How To Structure Your Brand To Attract The Right Attention From The Right Audience.
2) The Methodology Behind How Organic Works when you put it on steroids.
3) The Platforms To Use, And How To Use Them to set a ridiculous amount of appointments per week.
4) Our Bullet Proof, Tried and Proven Message Sequence, And How To Turn It Into An SOP To Duplicate With New Hires So They Can Do This Appointment Setting For You.
About Robb Quinn
After years of trial and error perfecting messaging that works.
Hating life making cold calls to people that didn't want to talk to me.
Sending emails just to jump on calls with people that weren't interested or nearly as qualified.
Running ads that cost $100 – $300 per booked appointment
I knew I needed something that could level out my ad spend, and get me off the phone with shitty prospects
Then I finally perfected the messaging that brought me the quality clients I was looking for launching me to my first 6 figure month.
Something even an introvert with zero sales experience could use.
THE COMMON AGENCY MISTAKE
When you think you have a sales problem
The unspoken truth
If you're anything like me, you love sales.
You spend all your time perfecting your sales process.
All of a sudden, you land a deal.
But you only land one, maybe two per month and think it's because you just need to get better at sales.
But what you're not being told is this.
You don't need to keep putting all your energy into sales.
You need to shift your focus to marketing.
You need more appointments on your calendar.
And not just any appointment.
A qualified one.
You mite be saying to yourself, "Robb, I get it, but I don't have money to throw into ads for that kind of volume"
That's the best part about this system.
Not only is it stupid simple
Requires ZERO software
But it also requires ZERO dollars in ads
There has never been a better time to leverage organic traffic in this way. It's the gold rush of appointment setting. And this methodology and strategy has been proven to work on multiple platforms for us and our clients.
and for a very limited time, we're basically just giving it away!
What is Internet Marketing ?
Internet Marketing Explained
Internet marketing is the promotion of a company and its products or services through online tools that generate leads, drive traffic, and boost sales.
Also called online marketing or digital marketing, internet marketing relies on digital channels to distribute promotional messages.
Internet marketing is an umbrella term that covers a wide range of marketing strategies and avenues.
From emails, search engines, social media posts, and blog articles, there's one common theme among all of these tactics: They all focus on delivering content.
With content marketing, gone are the days of hopeful sales pitches and traditional marketing.
Now, businesses can target their audience with pinpoint accuracy and provide useful information that resonates.
This is perfect because that's exactly what today's consumers want.
People don't want to hear about products and services that don't interest them.
From installing adblockers to clicking on "Skip Ads" buttons, today's shoppers are more discerning about the information they're willing to consume.
Content marketing delivers meaningful information that solves users' problems and is accessible on consumer demand.
Content Marketing vs. Traditional Advertising
Can you believe there was a time when salesmen knocked on strangers' doors to sell encyclopedias?
Today, we don't even like it much when our friends knock on our doors unannounced.
The fact is, traditional marketing (or selling) doesn't work anymore.
Its approach is to essentially push products and information onto people to pressure them into buying.
And frankly, people are over it.
You know it's true because you yourself have been bombarded with radio ads, television, commercials, billboards, and even phone calls touting products that don't interest you in the least.
While traditional ads may still work in some situations, the internet has changed the way consumers shop.
Now, armed with infinite amounts of information at their fingertips, users can take a more proactive approach to finding solutions to their problems.
They can search for the products that meet their needs — and avoid the ones that don't.
We can all agree that ads are annoying. They interrupt our focus and take us away from our journey of finding content that is actually useful.
Not only that, they're no longer the way people want to learn about new products.
Rather than intruding in consumers' lives, brands and marketers need to take a different approach.
Unlock (not provided) with Keyword Hero
See all your organic keywords in GA and their specific performance metrics. Free Trial. Cancel anytime. Professional support. 4-minute setup.
ADVERTISEMENT
They should ask questions first and give answers second, rather than the other way around.
That's where content marketing comes in.
Brands can research the specific needs of their target audience and create tailored content that inspires, educates, or alleviates a problem for their prospects.
Through a series of searches, people can find that online content on their own terms, rather than having it forced on them.
If the content provides value, they'll keep returning for more.
With content marketing, the user is in the driver's seat. They decide whether they want to engage with the brand and share the information with their social network.
This enables businesses to develop deep, meaningful relationships with their audience that are based on trust and authority.
When they decide they're ready, those loyal followers can convert to leads – on their own terms.
This is what happens when you put the consumer's needs above your own.
When you deliver content with the intention of providing valuable information, you'll be rewarded with their business (and their loyalty) in the end.
Fundamentally, that is what internet marketing is all about.
But Why All the Hype Around Internet Marketing?
You understand what internet marketing is and how it's beneficial for your brand.
But what's with all the hype around it?
Internet marketing isn't just a fad. It's a proven winner.
Here are some reasons why brands and marketers are shouting it from the rooftops:
By the end of 2021, the global content marketing industry is expected to reach $412 billion.
Consumers who read a piece of brand content are 131% more likely to buy from that brand versus consumers who read no content.
Fully 49% of B2B buyers said they are relying on content now more than ever to make purchase decisions.
If that wasn't enough proof, I can tell you from personal experience that content marketing is highly effective.
I've seen my own small business grow in ways I never could have imagined, so we focus 99% of our efforts on content marketing.
5-15 Appointments Per Day Masterclass By Robb Quinn