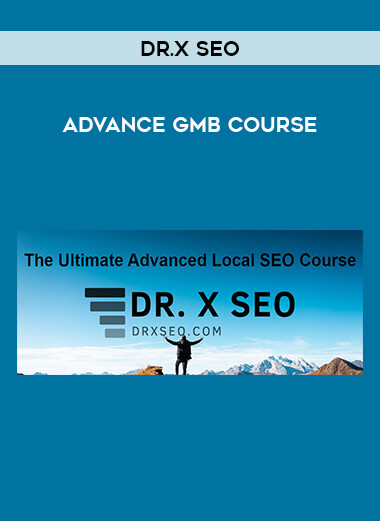 Advance GMB Course By DR.X SEO
Salepage : DR.X SEO – Advance GMB Course

The Ultimate Advanced Local SEO Course
OUR METHODS CAN REPLACE MOST OTHER GMB TACTICS!
Introduction to the most Advanced Local SEO Course
We are now going to present you the crème de la crème of our current best working Local SEO techniques. These now are the most badass techniques in local SEO. Everyone we have shown it to, has been raving about it!!!!!
We are going to show you how to Replicate Real-World Popularity around your GMB.
In this course we teach you everything you need to know how to automate user behavior signals and how you can do this without creating a pattern for Google. We're going to show you 3 different strategies to use depending on the stage of ranking.
We refer to them as Blueprint Implementation Strategies:
It starts with the Gardener Strategy. This is when you're not yet ranking and have a red/orange geogrid.
Then there's the Surfer Strategy for medium level mixed red/orange/green geogrid.
Then finally, the Juggernaut strategy for the high level light green to dark green mixed geogrids.
You get an SOP so that anyone can implement it based on your stage of rankings.
You will get access to a spreadsheet that will help you precisely calculate how much traffic you need / what level of signals you will need to send for each stage of your campaign.
So with this course, we're going to teach you how to use clicks and other user behavior methods to rank from start to finish.
ALL OUR GMB SEO SECRETS
Get all our GMB SECRETS that do not involve standards local seo techniques you have heard 100s of times:
Normal Local SEO focuses on the standard local citations + backlinks + social media creation + the usual stuff everyone already knows. We only implement unique techniques
ALL OUR BEHAVIORAL SEO SECRETS
Grow your LOCAL rankings with our MANUAL & AUTOMATED CTR TECHNIQUES:
Over rigourous testing we are presenting you the 5% BEST MANUAL & AUTOMATED CTR STRATEGIES
ALL OUR GROWTH STRATEGIES
Grow your GMB rankings with our refined Blueprint Implementation Strategies:
Gardener Strategy: beginning stage of red/orange geogrid
Surfer Strategy: medium level mixed red/orange/green geogrid.
Juggernaut strategy: for the high level light green to dark green mixed geogrids.
Common problems with Behavioral SEO is the failure to create "genuine" local relevanceand mimicking signals of genuine local interest. The Dr. X SEO GMB Course documents strategies that effectively mimic search interest from geo locations around the business in various forms.
The strategies in this course are the results of rigorous SEO testing. 95% of tests fail, the successful 5% of tests are what make up this course.
Our motto with SEO has always been: always test out your stupid ideas. If you don't test it out, that stupid idea will always stay a stupid idea. But when you test it out and it is a success, run with it.
What Is SEO traffic?
There are two types of website traffic:
Organic traffic: This is traffic that you don't pay for directly. It includes people who click through to your website from your social media pages, your email newsletter, Google's search results, and so on.
Paid traffic: This is traffic that you pay for directly. It includes people who click pay-per-click (PPC) ads, as well as those who hear about you through influencer marketing, newsletter or podcast sponsorships, and other forms of paid advertising.
SEO stands for search engine optimization, and is a process of optimizing your website with the goal of ranking higher on search engine results pages (SERPs) and ultimately increasing traffic.
In theory, the term SEO refers to all search engines, but in practice, it's Google that matters most as they have an 87.35% share of the search market, with Bing being a very distant second at 5.53%, and Yahoo taking third place with 2.83% of the market.
SEO traffic is organic traffic that comes from search engines, in other words, people who typed a keyword or query into Google, looked through the search results, and then clicked through to your website.
Note that this doesn't include paid search engine traffic, meaning those who entered a query into a search engine, and then clicked on your PPC ad that was displayed above the search results.
Advance GMB Course By DR.X SEO