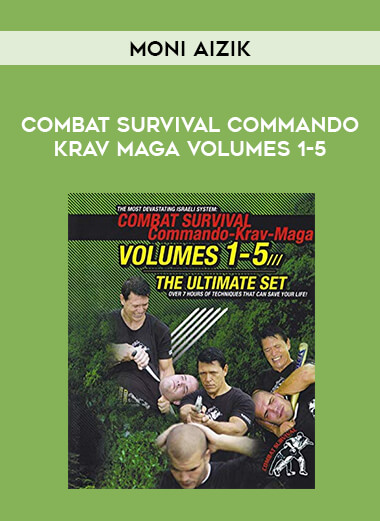 Combat Survival Commando Krav Maga Volumes 1-5 By Moni Aizik
Salepage : Moni Aizik – Combat Survival Commando Krav Maga Volumes 1-5

HOT NEW EXCITING DVDs with more then 200 proven, effective and unstoppable techniques!!! Fundamentals of Choke Escapes, Punch Defense and Attacks, Break Falls, Israeli Ground Survival, Fundamentals of Knife Attack Defense, Pressure Points, Fundamentals of Gun Disarming, Intermediate Strangle Escape, Striking Scenario, Break Falls, Intermediate Blade attack Defense, Counter Kicking Control Techniques, Israeli Ground Survival, Intermediate Gun Disarming, Surviving Surprise Attacks, Gun Disarming, Blade Attack Defense, Violent Strangles, Israeli ground Survival, , control techniques , Fast and brutal Striking scenarios, Pressure Points, Violent Headlocks, Baseball bat, Clinch defense, Safe Street falling, surprise attacks at night, Edge weapons, Escape from vicious street-holds, Commando Training tips and much more!
5 volumes
What is Martial arts ?
Martial arts are codified systems and traditions of combat practiced for a number of reasons such as self-defense; military and law enforcement applications; competition; physical, mental, and spiritual development; entertainment; and the preservation of a nation's intangible cultural heritage.
Combat Survival Commando Krav Maga Volumes 1-5 By Moni Aizik