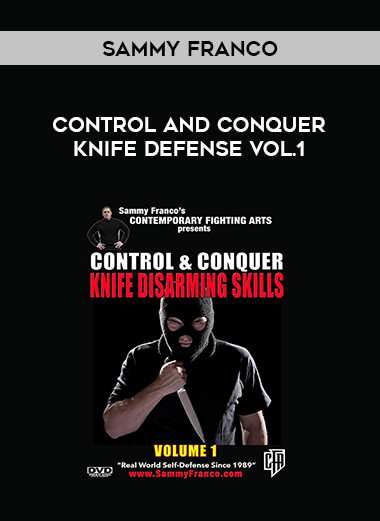 Control and Conquer Knife Defense Vol.1 By Sammy Franco
Salepage : Sammy Franco – Control and Conquer Knife Defense Vol.1

Description
This knife attack defense dvd contains an hour of fast-paced, hard-hitting knife survival training. Sammy Franco, the founder of Contemporary Fighting Arts, teaches you some of the most important lifesaving skills here.
CONTROL AND CONQUER (Volume 1) teaches you the four (4) knife defense principles that can save your life, the various types of edged weapons used by street criminals, knife familiarity, the five (5) types of knife encounters, the four (4) possible defenses to a knife attack, static and dynamic knife attacks, understanding knife grips, knife palming cues, the six (6) ways a criminal can injure or kill you with a knife, target vulnerability and anatomical orientation
NOTE: Because this is a two-part DVD series, we also suggest purchasing the companion DVD: CONTROL & CONQUER (Volume 2)
CONTROL AND CONQUER: Unarmed Against the Knife (Volume 1) is a multi-regional DVD that will play in any region. Excellent audio and color quality. Running time: approximately one hour.
What is Martial arts ?
Martial arts are codified systems and traditions of combat practiced for a number of reasons such as self-defense; military and law enforcement applications; competition; physical, mental, and spiritual development; entertainment; and the preservation of a nation's intangible cultural heritage.
Control and Conquer Knife Defense Vol.1 By Sammy Franco