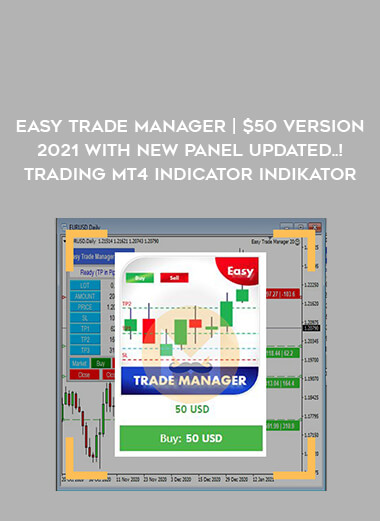 EASY TRADE MANAGER | $50 Version 2021 with new Panel updated..! TRADING MT4 INDICATOR INDIKATOR
Salepage : EASY TRADE MANAGER | $50 Version 2021 with new Panel updated..! TRADING MT4 INDICATOR INDIKATOR

1.Enter the Risked Amount or Lot size or % of Balance (New!)
2.Drag the RED line on the chart to fix the Stop-Loss.
3.Drag Blue line (New!) for Limit/Stop orders automatically !
4.Adjust TP1, TP2 and TP3 lines
5.You are ready to Buy/Sell > Adjust the lines even after the trade – New!
6.Check the user video – https://tinyurl.com/etmmt4ea
💢Automatic Breakeven TP1/2 | Book Part/Partial Profit TP1-TP2 | Automatic Magic Trail TP1/2 | Trade with fixed Amount or Lot Size |Automatic lot | All orders are hidden ( so you will not see it until it is executed!) | Hidden features for scalping with Magic Trail in Version 14
1.Buy/Sell! TP1,2,3 and lot size will be done based on your preference.
2.New Magic Trail option will automatically sense market volatility and adjust/trail your TP3! try it!
3.All the levels you set are hidden from the broker so the broker will only see it after execution!
What is forex trading?
Forex, or foreign exchange, can be explained as a network of buyers and sellers, who transfer currency between each other at an agreed price. It is the means by which individuals, companies and central banks convert one currency into another – if you have ever travelled abroad, then it is likely you have made a forex transaction.
While a lot of foreign exchange is done for practical purposes, the vast majority of currency conversion is undertaken with the aim of earning a profit. The amount of currency converted every day can make price movements of some currencies extremely volatile. It is this volatility that can make forex so attractive to traders: bringing about a greater chance of high profits, while also increasing the risk.
EASY TRADE MANAGER | $50 Version 2021 with new Panel updated..! TRADING MT4 INDICATOR INDIKATOR