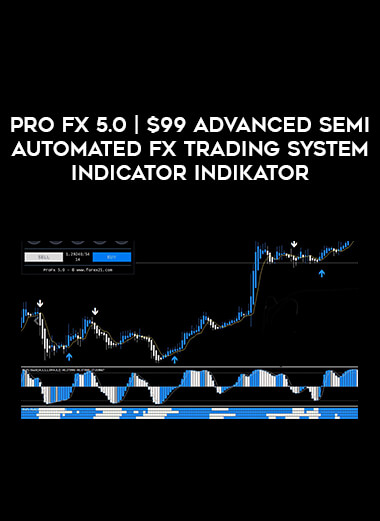 PRO FX 5.0 | $99 Advanced Semi Automated Fx Trading System INDICATOR INDIKATOR
Salepage : PRO FX 5.0 | $99 Advanced Semi Automated Fx Trading System INDICATOR INDIKATOR

💢Either you want to take your trading to the next level or just start your trading career, ProFx 5.0 can and will help you to make progress toward your targets. It really does make trading as easy as it gets. The success of our clients proves that it is one of the best and most complete trading systems available today.
💢But you also have to realize that how much success you will have with it depends also on you. If you:
💢Learn and follow the System rules.
💢Keep a trading journal to analyze your trades.
💢Use our best practice tips and trade suggestions as a guide.
💢Keep your emotions under control during trading.
💢Then you will be more than impressed by what is possible with this system. It will be an exciting and profitable journey. 💢On the other hand, if you are unable to control yourself, continuously violate the system rules, double down or even worse, double down without using any stop loss, you will not have much success with ProFx 5.0 or any other trading system. But perhaps you already know that.
What is forex trading?
Forex, or foreign exchange, can be explained as a network of buyers and sellers, who transfer currency between each other at an agreed price. It is the means by which individuals, companies and central banks convert one currency into another – if you have ever travelled abroad, then it is likely you have made a forex transaction.
While a lot of foreign exchange is done for practical purposes, the vast majority of currency conversion is undertaken with the aim of earning a profit. The amount of currency converted every day can make price movements of some currencies extremely volatile. It is this volatility that can make forex so attractive to traders: bringing about a greater chance of high profits, while also increasing the risk.
PRO FX 5.0 | $99 Advanced Semi Automated Fx Trading System INDICATOR INDIKATOR