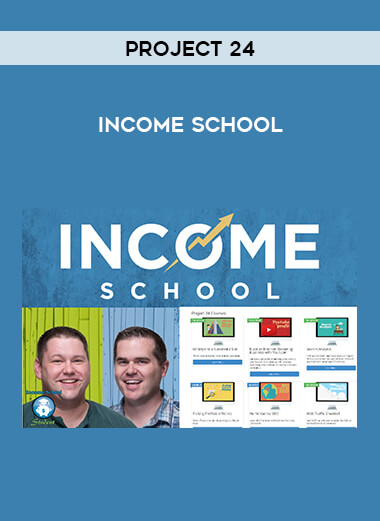 Project 24 – Income School
Salepage : Project 24 – Income School

60-Step Approach to a Profitable Niche Site
Dozens of easily-made mistakes could completely stall your site. You'll have a step-by-step system to follow to avoid failures.
A Podcast to Give You the Newest Techniques
You'll know the latest SEO, marketing, and monetization strategies from Jim and Ricky's members-only podcast.
A Community That Has Your Back
You'll face problems from SEO questions to technical issues to discouragement. The community will fix them for you in no time flat.
A Library of Courses to Know Your Stuff
You're gaining access to not just one course, but a full library. You'll never wonder how to tackle the next phase of your blog.
For Advanced Internet Marketers
You'll learn the up-to-the-moment cutting-edge internet marketing techniques in the Project 24 Podcast. Jim and Ricky share in season one how they took Camper Report from $2,000/month and changed the monetization to get it to $8,000 per month.In season 2 of the podcast, they share EVERYTHING about Project Rexburg: costs of writing an article, how to scale with freelance writers, and more. You'll learn how to scale up your blogging operation. But, there's a lot more. Many of the courses in Project 24 are absolutely applicable to you. The course on monetizing with ads, SEO, and others are especially important.
The 60-step process for building a site will have many steps you can fly through (for example how to set up WordPress), but will also include important things that will be new to you. Jim and Ricky have several videos showing their exact keyword research process and what types of keywords generate the best results for them.
For Those Who Have Tried and Failed
One of the largest groups of people in Project 24 are those who have tried and failed with internet marketing and taking courses from "gurus." We hear from them all the time, and it's really exciting when we hear from some of them who are finally succeeding.
Project 24 is a step-by-step process. There are SO many tiny things you have to remember and do right if you want a site to succeed, and while many courses share good tips, they leave you hanging by skipping over other important details.
We have had hundreds of people go through Project 24. Every time Ricky or Jim sees one of their sites and something they missed, they go back to the 60-steps and make sure it's in there so no one will make that mistake again. The course receives almost weekly updates.
We know you feel jaded at this point about internet marketing, but you KNOW there is huge potential. We have helped many people in your exact same situation to get to success. Put us to work for you.
For Beginners
For those of you starting a blog for the first time, you'll find a step-by-step process to walk you through everything you need to do to have a successful site. You'll see how to set up WordPress, install the right plugins, set up your site for SEO, and write the right type of content to reliably get traffic
What Is SEO traffic?
There are two types of website traffic:
Organic traffic: This is traffic that you don't pay for directly. It includes people who click through to your website from your social media pages, your email newsletter, Google's search results, and so on.
Paid traffic: This is traffic that you pay for directly. It includes people who click pay-per-click (PPC) ads, as well as those who hear about you through influencer marketing, newsletter or podcast sponsorships, and other forms of paid advertising.
SEO stands for search engine optimization, and is a process of optimizing your website with the goal of ranking higher on search engine results pages (SERPs) and ultimately increasing traffic.
In theory, the term SEO refers to all search engines, but in practice, it's Google that matters most as they have an 87.35% share of the search market, with Bing being a very distant second at 5.53%, and Yahoo taking third place with 2.83% of the market.
SEO traffic is organic traffic that comes from search engines, in other words, people who typed a keyword or query into Google, looked through the search results, and then clicked through to your website.
Note that this doesn't include paid search engine traffic, meaning those who entered a query into a search engine, and then clicked on your PPC ad that was displayed above the search results.
Project 24 – Income School