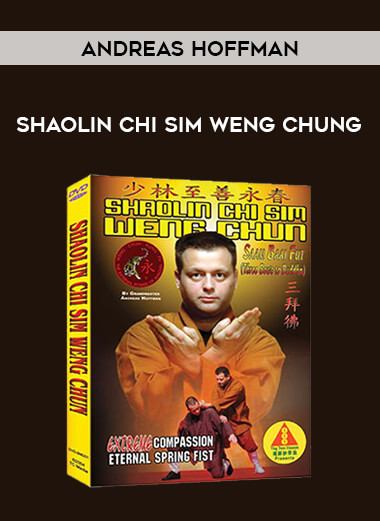 Shaolin Chi Sim Weng Chung By Andreas Hoffman
Salepage : Andreas Hoffman – Shaolin Chi Sim Weng Chung

This video includes the set Saam Baai Fut, which translates to "Three Bows to Buddha." Chi Sim Weng Chun's heart. In this set, the student learns to multiply energy through the waist, as in bowing. Every technique in Weng Chun has its own bow to add power and structure. When the skill of Saam Baai Fut is mastered, a practitioner can rob the energy of an experienced opponent or even prevent it from arising at all. This set also introduces the concept of thinking vertically, horizontally, and laterally by bowing to Heaven (high), Human (middle), and Earth (low) (low). Its goal is to help the Weng Chun Kuen practitioner cover all of space and time. This set is called Saam Baai Fut because the student bows three times: once for the Dharma (teaching), once for fellow students, and once to the Buddha nature within.
This Saam Baai Fut video is dedicated to Grand Master Wai Yan for his dedication to the development of Chi Sim Weng Chun Kung Fu.
What is Martial arts ?
Martial arts are codified systems and traditions of combat practiced for a number of reasons such as self-defense; military and law enforcement applications; competition; physical, mental, and spiritual development; entertainment; and the preservation of a nation's intangible cultural heritage.
Shaolin Chi Sim Weng Chung By Andreas Hoffman