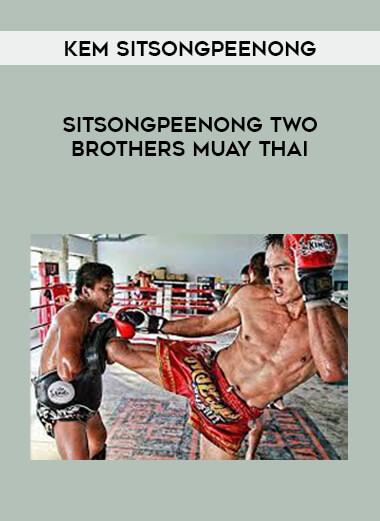 Sitsongpeenong Two Brothers muay Thai By Kem Sitsongpeenong
Salepage : Kem Sitsongpeenong – Sitsongpeenong Two Brothers muay Thai

This set of 2 DVDs is a complete training program on Muay Thai with famous boxer Kem Sitsongpeenong, Muay Thai champion in Thailand and reigning WMC Muay Thai World welterweight champion. These will be useful knowledge for those who are passionate about martial arts and Muay Thai.
Kem Sitsongpeenong (formerly known as Khem Fairtex), is the a Muay Thai champion in Thailand and WMC Muay Thai super welterweight world champion.
Kem Sitsongpeenong is one of the most recognized names in Muay Thai today. Starting his career at the age of 13, Kem eventually won the Rajadamnern Stadium Super Featherweight strap. After this, Kem moved to FAIRTEX GYM where he was known as Kem Fairtex. In 2008, Kem won the acclaimed S1 Kings title, after which he switched over to the Sitsongpeenong ("Two Brothers") gym.
Sitsongpeenong is a true fighter's gym offering training at the highest level. Sitsongpeenong fighters at compete the top stadiums in Thailand and internationally.
The motto at Sitsongpeenong is "Stand Your Ground". There is no retreat and no compromise.
The training philosophy is that winners never back down in a fight, rather they prove their heart with strength and determination. Because of this training philosophy, Sitsongpeenong fighters have a reputation for a dynamic and offensive Muay Thai style.
In this video, you will learn exactly what it is like to train at this world class gym and the methods they use to produce world class fighters.
4 Volumes in 2 DVDs
Language: English
What is Martial arts ?
Martial arts are codified systems and traditions of combat practiced for a number of reasons such as self-defense; military and law enforcement applications; competition; physical, mental, and spiritual development; entertainment; and the preservation of a nation's intangible cultural heritage.
Sitsongpeenong Two Brothers muay Thai By Kem Sitsongpeenong