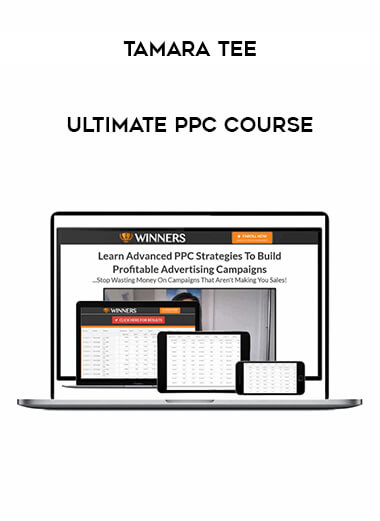 Ultimate PPC Course By Tamara Tee
Salepage : Tamara Tee – Ultimate PPC Course

Learn Advanced PPC Strategies To Build Profitable Advertising Campaigns
.Stop Wasting Money On Campaigns That Aren't Making You Sales!
What You Get:
– 7 Hour training, 9 In-Depth Modules, 30 Video Tutorials + PDF reading documents.
– Put a STOP to non profiting campaigns forever. Expect up-to-date, step by step learning strategies on how to scale and build profitable PPC advertising campaigns. Learn to break even and how to make money using PPC.
EXTRA BONUS
– Troubleshooting most common PPC errors. Learn to fix your campaigns.
– Join the Live private training sessions for no additional fee.
– How to set up brand registered PPC tutorials for experienced sellers.
Introduction
Welcome To FBA Winners PPC Advanced Course
Module 1: In Depth Training Inside PPC Dashboard & Understanding The Algorithm
Seller Central Campaign Manager Dashboard View & Naming Conventions
Campaign Manager Filters To Organize You Ad Sets & Campaigns
Learning Advertising Terms
Secrets Behind Amazon's PPC Algorithm & How It Works
Module 2: Optimizing Your Product Listing & Understanding Keywords
Why Your Product Listing Can Influence The Buyers' Decision
Why Products Rank Differently on Desktop And Mobile Device
Differences Between Negative Phrase And Exact Keywords
Choosing The Best Keywords To Convert Sales
(NEW) Pricing Your Product To Help With Conversions
Module 3: Launching Your FBA Product Successfully By Using PPC Campaigns
How To Use PPC For Your Product Launch
Why You Must Run PPC For Your Product Launch
Keyword Suggested Bids
Module 4: How To Analyze Your Search Term Advertising Reports
Understanding How To Read Your Search Term Advertising Reports
Analysis For Keyword Bid Management
Advertising Reports – Download And Organization
Module 5: Optimizing Your Keywords, Automatic & Manual PPC Campaigns
How to Optimize Your Automatic PPC Campaigns
(NEW) Negative ASIN Strategy Within Automatic Campaigns
How to Optimize Your Broad Phrase PPC Campaigns
How To Optimize Your Exact PPC Campaigns
Analysis For Removing Negative Keywords
Maximize Your Ad Spend & Keyword Data For Campaigns
Exception From Clicks To Spend Ratio For Optimizing Keywords
Module 6: PPC Growth & Keyword Ranking
The Power of Automatic Campaigns
Listing Optimization From Winning Keywords
Long Term Keyword Rank Goals
Module 7: Advanced PPC Strategies
How To Take Up More Real Estate For Product Variations – List All Variations
Adjusting Ad Placements For Campaigns
Maintaining Keyword Rank Using Manual PPC
Age Targeting Campaigns
ASIN Targeting Campaigns
Brand Name Targeting Campaigns
Seasnal Targeting Campaigns
Module 8: Creating PPC Advertising Campaigns For Product Variations
PPC Strategy For Similar Product Launches
Module 9: Brand Registered PPC Campaigns – Build & Optimize
How To Set Up Headline Search Ads Using Brand Registered PPC Campaigns
Optimizing Headline Search Ads – Keywords & Bidding
(NEW) How To Set Up Video Ads Using Brand Registered PPC Campaigns
(NEW) Optimizing Video Ads – Keywords & Bidding
(NEW) Creating Enhanced Brand Content To Increase Sales
Module 10: Troubleshooting PPC Campaigns
When To Stop Aggressive PPC For Product Launch
Should You Negative Main Keywords?
Optimizing Product Listing Frequency
Bundling Products & Using PPC Launch
Online Business Advertising, Patience, & Mindset
What is Business ?
Business is the activity of making one's living or making money by producing or buying and selling products (such as goods and services). It is also "any activity or enterprise entered into for profit."
Having a business name does not separate the business entity from the owner, which means that the owner of the business is responsible and liable for debts incurred by the business. If the business acquires debts, the creditors can go after the owner's personal possessions. A business structure does not allow for corporate tax rates. The proprietor is personally taxed on all income from the business.
The term is also often used colloquially (but not by lawyers or by public officials) to refer to a corporation, such as a company or cooperative.
Corporations, in contrast with sole proprietors and partnerships, are a separate legal entity and provide limited liability for their owners/members, as well as being subject to corporate tax rates. A corporation is more complicated and expensive to set up, but offers more protection and benefits for the owners/members.
Ultimate PPC Course By Tamara Tee